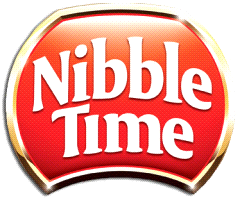 Nibble Time is a brand of Maas-Intersales which focuses on food that's healthier and contains less fat and less sugar than the classic food products. A  thorough public health research in food consumption in Western Europe has shown that products with less fat and sugar meet the highest demand of the consumer within the food sector. Nibble Time products with reduced-fat and less sugar are more than comparable with traditional recipes. The majority of consumers choose for taste in combination with less fat and less sugar. The most important aspects in choosing food products.
We develop, produce and distribute our food products for out-of-home, grocery and retail markets. We continuously watch trends and ever-changing demands of the market while developing our new products. We are continuously investing in expanding and upgrading our product assortment.
With our Nibble Time brand we give retailers the possibility to launch new products in a short period of time without any investment of design and or packaging.
Nibble Time brand is a European brand based in the Netherlands. We produce our Nibble Time products in modern production sites all over the world.
An important asset of the Nibble Time brand is that our brand gives you the efficiency and flexibility to deal with market changes quickly.
We are always looking for new distributors, wholesalers, retailers and importers.
For more information please don't hesitate to  contact us.